O Edificio Bronce de 22 pisos, em Madrid – ou Torre Bronce como os locais lhe chamam – foi construído em 1990 como um dos primeiros espaços na cidade projetado exclusivamente para escritórios. Convenientemente localizado no centro da cidade, este é um dos locais de trabalho mais acessíveis da capital, que acolhe atualmente as sedes da Federação Espanhola de Basquetebol e a Twentieth Century Fox Home Entertainment España.

Contudo, após três décadas de intensa utilização, os anos de beleza do bronze começaram a desaparecer. Com um fluxo diário de mais de 1 000 pessoas, os seis elevadores de acesso aos escritórios e os dois elevadores de acesso ao parque de estacionamento na cave, simplesmente não transportavam as pessoas suficientemente rápido. Quando a sua modernização foi atribuída à KONE, o tempo médio de espera por um elevador na hora de ponta eram uns inaceitáveis seis minutos.
"À medida que os inquilinos e o uso dos elevadores aumentavam, o elevado consumo energético dos elevadores causava altas temperaturas na casa de máquinas, o que levava a avarias frequentes", explica Ricardo García, responsável de manutenção do Edificio Bronce.
Transformação passo a passo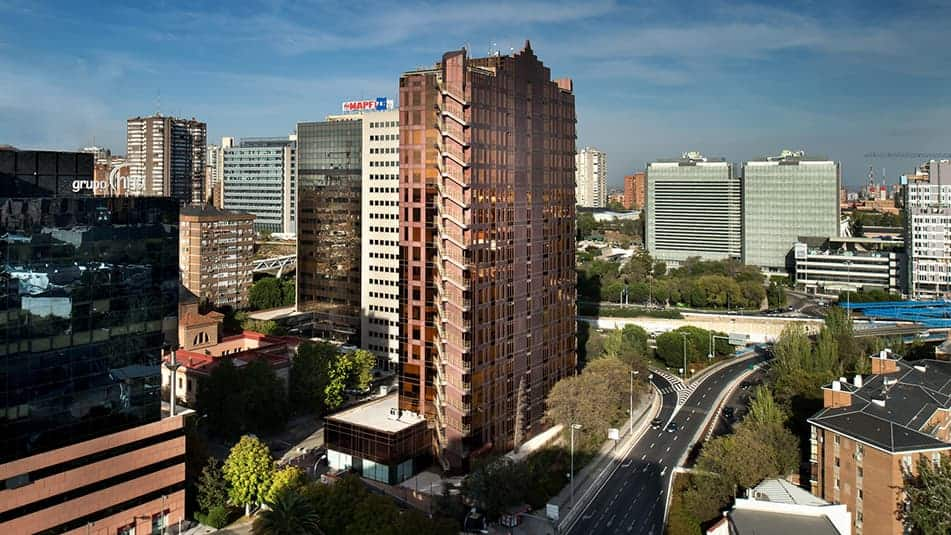 The transformation of Edificio Bronce began in 2014 with the modernization of four elevators, adding a new KONE ReGenerate™ 800 solution comprising new hoisting machinery, controller and electrification system. The KONE Polaris™ Hybrid destination control system was also implemented further improving handling capacity and passenger comfort through shorter journey times and fewer intermediate stops.
The KONE E-Link™ equipment monitoring system was also installed to maintain maximum efficiency, providing an accurate view of the transportation status, demand, traffic performance, and availability of the elevators in the building.
This combination proved to be highly effective, with rush hour waiting times cut by more than 60%.
"The main hall of the building doesn't get crowded anymore. Maintaining a high quality of life for our occupants on the move is of the highest priority," says García.
This was the turning point says García. "We realized that a long-term relationship could only enhance the people flow in the building."
Following excellent results from the first phase, the upgrades continued in 2018 with the installation of the comprehensive KONE Access™ solution, featuring a fully scalable access control system that is integrated with the elevator system. Four Kone Turnstile 100 units were also installed to improve occupant flow while maintaining strong access control protocols.
A transformação do Edificio Bronce começou em 2014 com a modernização de quatro elevadores, adicionando uma solução KONE ReGenerate™ 800, composta por equipamento de elevação, controlador e sistema de eletrificação novos. Também foi implementado o sistema de controlo de destino KONE Polaris™ Hybrid, o que melhorou a capacidade operacional e o conforto dos passageiros com tempos de viagem mais curtos e menos paragens intermédias.
Além disso, foi instalado o sistema de monitorização do equipamento KONE E-Link™ para garantir máxima eficiência e proporcionar uma visão precisa do estado do transporte, da procura, do desempenho do tráfego e da disponibilidade dos elevadores no edifício.
Esta combinação demonstrou ser bastante eficaz, com uma redução de mais de 60% dos tempos de espera em hora de ponta.
"O hall principal do edifício já não fica lotado. Manter uma elevada qualidade de vida dos nossos ocupantes em movimento é a nossa principal prioridade", diz García.
García afirma ainda que este foi o momento decisivo. "Apercebemo-nos de que uma relação duradoura só podia melhorar o fluxo de pessoas no edifício."
Depois dos excelentes resultados da primeira fase, as atualizações continuaram em 2018, com a instalação da solução integrada KONE Access™, equipada com um sistema de controlo de acesso totalmente adaptável, integrado com o sistema de elevadores. Foram também instaladas quatro unidades KONE Turnstile 100 para melhorar o fluxo de ocupantes mantendo, ao mesmo tempo, os fortes protocolos de controlo de acesso.
Concluída em 2019, a fase final incluiu a modernização dos restantes dois elevadores. Os dois elevadores de acesso ao parque de estacionamento foram substituídos por elevadores KONE NanoSpace™ novos e eficientes a nível energético, concebidos para uma instalação rápida.
Todos os elevadores do edifício estão ligados aos Serviços KONE Connected 24/7, um sistema de manutenção preditiva baseado na nuvem, que utiliza os dados recolhidos por sensores nos elevadores para melhorar o desempenho, a fiabilidade e a segurança do equipamento, identificando qualquer problema antes de que provoque uma avaria.
"Depois de ver o valor das soluções KONE, decidimos instalar os Serviços KONE Connected 24/7, pela fiabilidade e pelo conforto da manutenção preditiva", afirma García. "Pessoalmente, facilita-me o trabalho!"
Primeiro em Espanha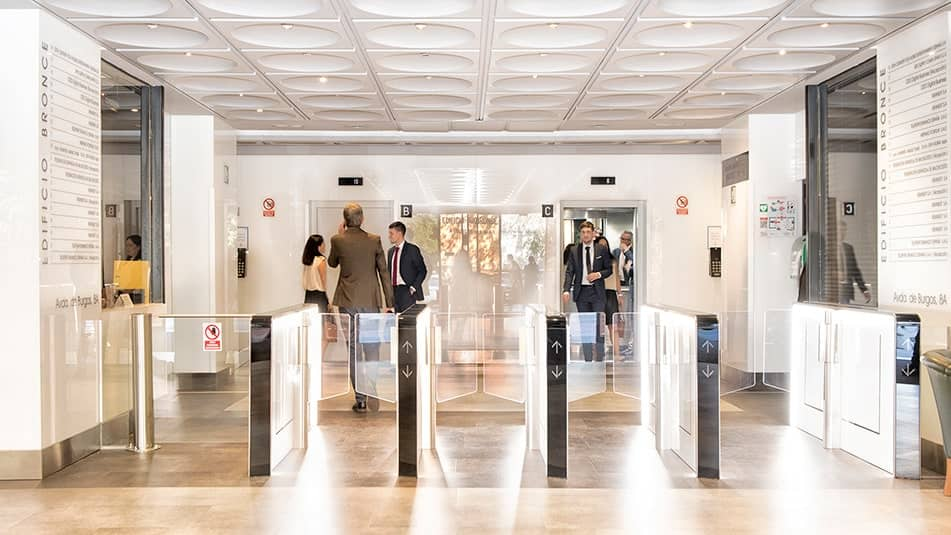 Com os inquilinos já frustrados pelas longas esperas, fazê-los esperar ainda mais devido a interrupções no serviço não era uma opção. O maior desafio deste projeto foi realizar as atualizações num edifício com uma ocupação a 100%, conta Sérgio Álvarez, Diretor de Modernização e Novos Equipamentos da KONE España.
"Parar um elevador para o modernizar foi um grande desafio. Contudo, conseguimos coordenar horários e trabalhar também durante a noite. O cliente reconheceu a dedicação e o bom trabalho da nossa equipa de técnicos de manutenção", afirma Álvarez.
O Edificio Bronce foi o primeiro em Espanha a ter o pacote completo das soluções KONE Advanced People Flow.
Além de cortar minutos aos tempos de espera pelo elevador, a renovação melhorou a eficiência energética e a segurança do edifício, introduzindo um sistema de controlo de acesso moderno e maior fiabilidade do equipamento através da manutenção preditiva baseada na IoT.
E, a cereja no topo do bolo, foi a modernização da decoração do lobby com um aspeto mais limpo e contemporâneo, que complementa o design elegante do equipamento da KONE.
LEIA MAIS
Quick facts: Edificio Bronce, Madrid, Spain
KONE 24/7 Connected Services
KONE Advanced People Flow Solutions
Embracing the new, the future of offices and working